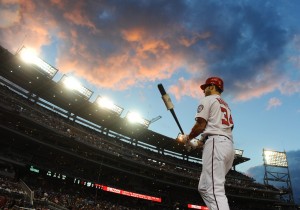 If you thought the Home Run Derby and All-Star break might leave Bryce Harper off his game for a little while, you weren't correct. If anything, the experience has sparked Harper, making him play better. In the first full week after the break Harper was 9 for 25 (.360) with 4 runs scored and 6 rbis. AND, Harper hit his 14th and 15th home runs during the week.
The week wasn't without a downside for the 20-year-old. He once again aggravated his left knee, took a day off and then by the end of the week aggravated the knee again. But while the knee has bothered Harper all year, he has still managed to play well, and often play brilliantly.
Among the Mormon pitchers the brilliant play came from Jeremy Guthrie, who came off a poor performance last week to pitch a strong game against his former team, the Orioles. Guthrie gave up just 1 run in 6 innings (1.50 era) while striking out 5. Now if Guthrie could just manage to pitch like that consistently.
Roy Halladay remains on the disabled list, but threw bullpen sessions on both the 21st and 27th. He is on track to return by late August. And the As recalled Adam Rosales from AAA Sacramento after prospect Grant Green didn't work out. The status of former Mets pitcher Brandon Lyon remains unknown, although it is still possible that he will find a home ahead of the trade deadline this week.
.
Hitting Stats Leaders:
Jacoby Ellsbury — 38 stolen bases (1st)
Pitching Stats Leaders:
Fielding Stats Leaders:
.
Current Roster Players:
Darwin Barney—second base—Chicago Cubs
3 for 29 (.103), 1 runs, 0 rbi, 0 hr, 0 bb, 0 sb, 4 so
YTD: .216, 33 runs, 28 rbi, 6 hr, 19 bb, 3 sb, 38 so in 324 at bats.
John Buck — starting catcher — New York Mets
5 for 21 (.238), 0 runs, 5 rbi, 0 hr, 0 bb, 0 sb, 4 so
YTD: .220, 36 runs, 53 rbi, 14 hr, 21 bb, 2 sb, 85 so in 313 at bats.
Jacoby Ellsbury — starting outfielder — Boston Red Sox
5 for 22 (.227), 1 runs, 0 rbi, 0 hr, 0 bb, 1 sb, 3 so
YTD: .302, 62 runs, 34 rbi, 4 hr, 36 bb, 38 sb, 55 so in 410 at bats.
Kyle Farnsworth — reliever (right handed) — Tampa Bay Rays
0-0, 16.20 era, 4 hits, 3 er, 0 bb, and 2 k in 1.2 innings
YTD: 2-0, era 5.14, 33 hits, 16 er, 7 bb and 18 k in 28.0 innings
Jeremy Guthrie — starting pitcher (right handed) — Kansas City Royals
1-0, 1.50 era, 6 hits, 1 er, 1 bb, and 5 k in 6.0 innings
YTD: 10-7, 4.27 era, 140 hits, 63 er, 46 bb and 69 k in 132.2 innings
Roy Halladay— starting pitcher (right handed) — Philadelphia Phillies
60-day DL – did not pitch – Last pitched May 5th, underwent surgery May 15th, will begin throwing in mid July
YTD: 2-4, era 8.65, 33 hits, 33 er, 17 bb, 35 k in 34.1 innings.
Bryce Harper — left field — Washington Nationals
9 for 25 (.360), 4 runs, 6 rbi, 2 hr, 1 bb, 0 sb, 3 so
YTD: .273, 43 runs, 35 rbi, 15 hr, 38 bb, 6 sb, 54 so in 238 at bats.
Elliot Johnson — infielder — Kansas City Royals
0 for 5 (.000), 0 runs, 0 rbi, 0 hr, 0 bb, 0 sb, 2 so
YTD: .200, 19 runs, 9 rbi, 2 hr, 7 bb, 12 sb, 43 so in 145 at bats.
Josh Johnson — starting pitcher (right handed) – Toronto Blue Jays
0-2, 14.09 era, 14 hits, 12 er, 10 k, 3 bb in 7.2 innings
YTD: 1-7, 6.08 era, 90 hits, 50 er, 77 k, 26 bb in 74.0 innings.
Matt Lindstrom — right handed bullpen pitcher – Chicago White Sox
0-0, 9.00 era, 3 hits, 3 er, 0 k, 1 bb in 1.0 innings
YTD: 2-3, 3.35 era, 39 hits, 15 er, 28 k, 20 bb in 40.1 innings.
Brandon Lyon — right handed bullpen pitcher — New York Mets
Did not pitch — Released
YTD: 2-2, 4.98 era, 43 hits, 19 er, 23 k, 13 bb in 34.1 innings.
Adam Rosales — 2B — Oakland A's
0 for 2 (.000) 0 run, 0 rbi, 0 hr, 1 bb, 0 sb, 0 so
YTD: .197, 11 runs, 8 rbi, 4 hr, 10 bb, 0 sb, 30 so in 132 at bats.
Eric Sogard — infielder — Oakland A's
7 for 19 (.368) 4 run, 4 rbi, 0 hr, 0 bb, 0 sb, 3 so
YTD: .272, 34 run, 19 rbi, 2 hr, 19 bb, 7 sb, 34 so in 235 at bats