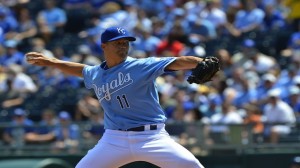 Over his past 5 starts, the Kansas City Royals' Jeremy Guthrie has a 4-1 record, improving his season totals to 11-7 and putting him tied for 11th in the majors in wins. Does this mean that Guthrie has turned around his performance? Can we expect solid pitching for the rest of the year?
The answer isn't quite clear. Guthrie's struggles have kept everyone guessing, with the best guess being that he will pitch well one game and then struggle the next. And looking behind the wins at his era and performance each game, Guthrie's performance is still not something you can count on. In the last 5 games, he first pitched well, and then twice gave up 5 earned runs, but somehow managed to win one of those games. The most recent two games were solid—he gave up first 1 earned run, and then 2 last week. His era for these 5 games was still 3.98, just a little below his season era of 4.22. So its hard to make much of the last 5 games. But give me another strong outing or two in a row? Well, the Royals will be much happier and much more confident in him.
At the plate the best performances by Mormons last week came from Eric Sogard and Jacoby Ellsbury. Sogard has been on a post-All-Star break hot streak that led the As to promote him from 7th in the batting order to 2nd. While he was slowed down a little when he was hit in the elbow by a pitch July 29th, Sogard missed a day and kept working. But despite his streak, the A's acquisition last week of Alberto Callaspo will likely relegate Sogard to a backup role.
Ellsbury, on the other hand, continues his stellar work, maintaining a batting average over .300 and the major league lead in stolen bases (40). With the Red Sox in first place in the AL East, there was no way that Ellsbury would be traded, but he is also in the last year of his contract, and Boston hasn't been in a hurry to re-sign him since Ellsbury would likely command a high price right now. Its not hard to imagine him playing elsewhere next year.
Roy Halladay remains on the DL, but continues throwing bull pen sessions ahead of a rehab start in the next couple of weeks. Adam Rosales was again designated for assignment by the As (after they acquired Callaspo), but was claimed by the Texas Rangers on August 2nd. As a backup infielder, he hasn't yet made it into a game for the Rangers—look for him this coming week. It turns out that Brandon Lyon was picked up in mid July by the Boston Red Sox and assigned to AAA Pawtucket, where he pitched in 4 games (1.69 era over 5.1 innings). But Boston released him August 1st.
And perhaps the best news of the week is that Mets catcher John Buck is expected to miss three games in the next week or so, perhaps giving the team a chance to debut their hot catching prospect, Travis d'Arnaud. Why is that good news? Buck is going on paternity leave. He and his wife already have twins, born in 2008, and are expecting to add a third child any day.
.
Hitting Stats Leaders:
Jacoby Ellsbury — 40 stolen bases (1st)
Pitching Stats Leaders:
Fielding Stats Leaders:
.
Current Roster Players:
Darwin Barney—second base—Chicago Cubs
5 for 19 (.263), 1 runs, 3 rbi, 0 hr, 2 bb, 0 sb, 4 so
YTD: .216, 34 runs, 31 rbi, 6 hr, 21 bb, 3 sb, 43 so in 347 at bats.
John Buck — starting catcher — New York Mets
3 for 21 (.143), 1 runs, 3 rbi, 0 hr, 2 bb, 0 sb, 7 so
YTD: .216, 37 runs, 56 rbi, 14 hr, 23 bb, 2 sb, 92 so in 334 at bats.
Jacoby Ellsbury — starting outfielder — Boston Red Sox
9 for 31 (.290), 5 runs, 4 rbi, 1 hr, 1 bb, 2 sb, 9 so
YTD: .302, 67 runs, 38 rbi, 5 hr, 37 bb, 40 sb, 64 so in 441 at bats.
Kyle Farnsworth — reliever (right handed) — Tampa Bay Rays
0-0, 27.00 era, 2 hits, 1 er, 0 bb, and 0 k in 0.1 innings
YTD: 2-0, era 5.40, 35 hits, 17 er, 7 bb and 18 k in 28.1 innings
Jeremy Guthrie — starting pitcher (right handed) — Kansas City Royals
1-0, 3.00 era, 6 hits, 2 er, 2 bb, and 5 k in 6.0 innings
YTD: 11-7, 4.22 era, 146 hits, 65 er, 48 bb and 74 k in 138.2 innings
Roy Halladay— starting pitcher (right handed) — Philadelphia Phillies
60-day DL – did not pitch – Last pitched May 5th, underwent surgery May 15th, will begin throwing in mid July
YTD: 2-4, era 8.65, 33 hits, 33 er, 17 bb, 35 k in 34.1 innings.
Bryce Harper — left field — Washington Nationals
5 for 21 (.238), 2 runs, 2 rbi, 1 hr, 0 bb, 0 sb, 2 so
YTD: .270, 45 runs, 37 rbi, 16 hr, 38 bb, 6 sb, 56 so in 259 at bats.
Elliot Johnson — infielder — Kansas City Royals
0 for 5 (.000), 0 runs, 0 rbi, 0 hr, 1 bb, 1 sb, 2 so
YTD: .193, 19 runs, 9 rbi, 2 hr, 8 bb, 13 sb, 45 so in 150 at bats.
Josh Johnson — starting pitcher (right handed) – Toronto Blue Jays
0-1, 23.14 era, 10 hits, 6 er, 1 k, 2 bb in 2.1 innings
YTD: 1-8, 6.60 era, 100 hits, 56 er, 78 k, 28 bb in 76.1 innings.
Matt Lindstrom — right handed bullpen pitcher – Chicago White Sox
0-0, 18.00 era, 3 hits, 2 er, 1 k, 0 bb in 1.0 innings
YTD: 2-3, 3.70 era, 42 hits, 17 er, 29 k, 20 bb in 41.1 innings.
Brandon Lyon — right handed bullpen pitcher — New York Mets
Did not pitch — Released
YTD: 2-2, 4.98 era, 43 hits, 19 er, 23 k, 13 bb in 34.1 innings.
Adam Rosales — 2B — Oakland A's (claimed by Rangers on August 2nd)
0 for 3 (.000) 0 run, 0 rbi, 0 hr, 0 bb, 0 sb, 1 so
YTD: .193, 11 runs, 8 rbi, 4 hr, 10 bb, 0 sb, 31 so in 135 at bats.
Eric Sogard — infielder — Oakland A's
4 for 14 (.286) 3 run, 1 rbi, 0 hr, 0 bb, 0 sb, 1 so
YTD: .273, 37 run, 20 rbi, 2 hr, 19 bb, 7 sb, 35 so in 249 at bats