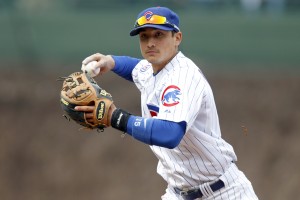 With the first month of the season drawing to a close, many ballplayers seem to be settling into their habtis, performing at a normal level instead of unexpectedly high or low. Darwin Barney, two weeks back from the DL, might be an example. His first week back, Barney hit an anemic .059, but this past week he's back closer to his career norm—.240 with a home run and just one strike out in 25 at bats.
Barney isn't the only one. After causing a stir with his great start, Mets catcher John Buck had another off week last week, which brought his stats down to normal for his career (.250, 17 ks in 80 at bats). Still, the rbis he rang up in the first two weeks of the season have left him in 5th place in MLB (and far ahead of pace for his best season ever, 2010, when he had 66 rbis) and his 8 home runs put him tied for 4th.
Buck isn't the only Mormon ballplayer among the leaders in the stats race. Jacoby Ellsbury's 11 stolen bases leads the majors. And, of course, Bryce Harper is near the top in multiple categories. His 9 homers put him tied for 2nd; he is 5th in batting average, leading the majors in ops, 4th in obp, and tied for 2nd in slugging. And in Harper's case its not hard to imagine him keeping up this level of performance.
Starting pitchers also seem to have settled down a month into the season, and Jeremy Guthrie is leading among the Mormons. Guthrie is 3-0 with a 3.06 era after shutting out the Indians Sunday for 6 2/3rds innings and the win. While Guthrie has struggled early on in the season, the Phillies' Roy Halladay has struggled more, ending up with a 2-2 record and 5.08 era. But he too has settled down, giving up just one run over six innings last Wednesday against the Pirates. The other starter, Josh Johnson, was injured and didn't pitch this past week.
Among relievers, however, the week was something of a disaster. The best era was 9.00, from Matt Lindstrom of the White Sox. The worst was 20.25 from Kyle Farnsworth, supposed to be the Rays' setup man for Fernando Rodney. But over 5.1 innings so far this year Farnsworth has yet to get a strike out and has given up 5 earned runs —not exactly what you want from a setup man.
.
Current Roster Players:
Darwin Barney—second base—Chicago Cubs
6 for 25 (.240), 2 runs, 1 rbi, 1 hr, 0 bb, 0 sb, 1 so
YTD: .167, 2 runs, 1 rbi, 1 hr, 2 bb, 0 sb, 6 so in 42 at bats.
John Buck — starting catcher — New York Mets
2 for 18 (.111), 2 runs, 1 rbi, 1 hr, 2 bb, 0 sb, 7 so
YTD: .250, 14 runs, 23 rbi, 8 hr, 4 bb, 0 sb, 17 so in 80 at bats.
Jacoby Ellsbury — starting outfielder — Boston Red Sox
6 for 28 (.214), 3 runs, 2 rbi, 0 hr, 4 bb, 3 sb, 5 so
YTD: .273, 18 runs, 11 rbi, 1 hr, 7 bb, 11 sb, 15 so in 110 at bats.
Kyle Farnsworth — reliever (right handed) — Tampa Bay Rays
0-0, 20.25 era, 3 hits, 3 er, 2 bb, and 0 k in 1.1 innings
YTD: 0-0, era 8.44 8 hits, 5 er, 3 bb and 0 k in 5.1 innings
Jeremy Guthrie — starting pitcher (right handed) — Kansas City Royals
1-0, 0.00 era, 6 hits, 0 er, 3 bb, and 5 k in 6.2 innings
YTD: 3-0, era 3.06 31 hits, 11 er, 10 bb and 24 k in 32.1 innings
Roy Halladay— starting pitcher (right handed) — Philadelphia Phillies
0-0, era 1.50, 1 hits, 1 er, 2 bb, 8 k in 6.0 innings.
YTD: 2-2, era 5.08, 20 hits, 16 er, 11 bb, 28 k in 28.1 innings.
Bryce Harper — left field — Washington Nationals
7 for 21 (.333), 5 runs, 4 rbi, 2 hr, 6 bb, 0 sb, 3 so
YTD: .360, 18 runs, 18 rbi, 9 hr, 13 bb, 1 sb, 15 so in 86 at bats.
Elliot Johnson — infielder — Kansas City Royals
0 for 3 (.000), 1 runs, 0 rbi, 0 hr, 0 bb, 0 sb, 3 so
YTD: .125, 2 runs, 1 rbi, 0 hr, 0 bb, 1 sb, 7 so in 16 at bats.
Josh Johnson — starting pitcher (right handed) – Toronto Blue Jays
Did not pitch – missed start due to injury
YTD: 0-1, 6.86 era, 28 hits, 15 er, 19 k, 9 bb in 19.2 innings.
Matt Lindstrom — right handed bullpen pitcher – Chicago White Sox
0-0, 9.00 era, 3 hits, 2 er, 3 k, 1 bb in 2.0 innings
YTD: 1-1, 4.22 era, 8 hits, 5 er, 10 k, 3 bb in 10.2 innings.
Brandon Lyon — right handed bullpen pitcher — New York Mets
0-1, 15.43 era, 4 hits, 4 er, 1 k, 1 bb in 2.1 innings
YTD: 1-1, 4.82 era, 7 hits, 5 er, 8 k, 1 bb in 9.1 innings.
Clayton Mortensen — right handed bullpen pitcher —Boston Red Sox
0-0, 18.00 era, 3 hits, 4 er, 2 k, 1 bb in 2.0 innings
YTD: 0-1, 5.06 era, 9 hits, 6 er, 11 k, 2 bb in 10.2 innings
Adam Rosales — 2B — Oakland A's
3 for 10 (.300), 1 runs, 0 rbi, 0 hr, 0 bb, 0 sb, 2 so
YTD: .300, 1 runs, 0 rbi, 0 hr, 0 bb, 0 sb, 2 so in 10 at bats.
Eric Sogard — infielder — Oakland A's
1 for 13 (.077) 3 run, 0 rbi, 0 hr, 2 bb, 0 sb, 3 so
YTD: .238, 8 run, 2 rbi, 0 hr, 5 bb, 2 sb, 9 so in 63 at bats