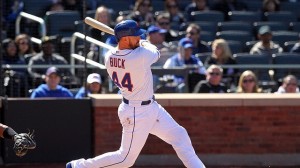 When the Yankees' play-by-play radio announcer, John Sterling, says (as he does every game) "You just can't predict baseball," I can't help laughing—because he says it so often. The thing is, though, he's right.
And in the first week of baseball for 2013 I saw that he is right again. Who would have predicted, even given his strong performance in spring training, that the Mets' John Buck would have the best batting average among the Mormons in professional baseball? Better than Bryce Harper? Better than Jacoby Ellsbury and Darwin Barney? But here we are, after a week of play, 20 at bats for Buck, he is hitting .400 with 9 rbis and 2 home runs.
Starting the season last week, I thought Harper was the one with the hot bat. He homered in each of his first two at bats for the season (what a hot dog!) and had to endear himself to fans when he checked with his team mates (because he didn't want to seem cocky) after the second home run to see if it was all right to take a curtain call. Alright? Of course its alright! You just hit back-to-back home runs! when no one else on the team could hit Ricky Nolasco! Yes, Bryce, take the curtain call.
Among other Mormon position players, Jacoby Ellsbury finished the week hitting .310 with a homer and 7 rbis, a strong performance that no doubt earned him back slaps from anyone who noticed. But, in contrast, the performance of Eric Sogard was somewhat surprising. After tearing up the field in spring training, Sogard hit an anemic .158 for the week. Lets hope he adjusts.
The unpredictability of baseball also showed up among the Mormon pitchers. Jeremy Guthrie led the starters with a 1.50 era and 9 strike outs over 6 innings—a very strong performance given his troubles last year and uneven spring. In contrast, I have to wonder if the Phillies' Roy Halladay isn't actually injured, given that he gave up 5 earned runs over just 3 1/3rd innings (13.50 era) in his start last week. He did manage to get 9 of his 10 outs from strikeouts. Among relievers the standout was the Mets' Brandon Lyon, who struck out 3 over 2 1/3rd innings of work and picked up a win in the process.
.
Current Roster Players:
Darwin Barney—second base—Chicago Cubs
On 15-day DL. Eligible to return April 15
YTD: no stats
John Buck — starting catcher — New York Mets
8 for 20 (.400), 4 runs, 9 rbi, 2 hr, 1 bb, 0 sb, 3 so
YTD: .400, 4 runs, 9 rbi, 2 hr, 1 bb, 0 sb, 3 so in 20 at bats.
Jacoby Ellsbury — starting outfielder — Boston Red Sox
9 for 29 (.310), 4 runs, 7 rbi, 1 hr, 2 bb, 4 sb, 3 so
YTD: .310, 4 runs, 7 rbi, 1 hr, 2 bb, 4 sb, 3 so in 29 at bats.
Kyle Farnsworth — reliever (right handed) — Tampa Bay Rays
0-0, 10.80 era, 3 hits, 2 er, 0 bb, and 0 k in 1.2 innings
YTD: 0-0, era 10.80 3 hits, 2 er, 0 bb and 0 k in 1.2 innings
Jeremy Guthrie — starting pitcher (right handed) — Kansas City Royals
1-0, 1.50 era, 5 hits, 1 er, 1 bb, and 9 k in 6.0 innings
YTD: 1-0, era 1.50 5 hits, 1 er, 1 bb and 9 k in 6.0 innings
Roy Halladay— starting pitcher (right handed) — Philadelphia Phillies
0-1, era 13.50, 6 hits, 5 er, 3 bb, 9 k in 3.1 innings.
YTD: 0-1, era 13.50, 6 hits, 5 er, 3 bb, 9 k in 3.1 innings.
Bryce Harper — left field — Washington Nationals
9 for 25 (.360), 5 runs, 5 rbi, 3 hr, 0 bb, 0 sb, 5 so
YTD: .360, 5 runs, 5 rbi, 3 hr, 0 bb, 0 sb, 5 so in 25 at bats.
Elliot Johnson — infielder — Kansas City Royals
1 for 3 (.333), 0 runs, 1 rbi, 0 hr, 0 bb, 0 sb, 1 so
YTD: .333, 0 runs, 1 rbi, 0 hr, 0 bb, 0 sb, 1 so in 3 at bats.
Josh Johnson — starting pitcher (right handed) – Toronto Blue Jays
0-0, 4.50 era, 9 hits, 3 er, 6 k, 2 bb in 6.0 innings.
YTD: 0-0, 4.50 era, 9 hits, 3 er, 6 k, 2 bb in 6.0 innings.
Matt Lindstrom — right handed bullpen pitcher – Chicago White Sox
0-0, 0.00 era, 1 hits, 0 er, 4 k, 0 bb in 4.0 innings
YTD: 0-0, 0.00 era, 1 hits, 0 er, 4 k, 0 bb in 4.0 innings.
Brandon Lyon — right handed bullpen pitcher — New York Mets
1-0, 0.00 era, 1 hits, 0 er, 3 k, 0 bb in 2.1 innings
YTD: 1-0, 0.00 era, 1 hits, 0 er, 3 k, 0 bb in 2.1 innings.
Clayton Mortensen — right handed bullpen pitcher —Boston Red Sox
0-0, 2.25 era, 4 hits, 1 er, 5 k, 0 bb in 4.0 innings
YTD: 0-0, 2.25 era, 4 hits, 1 er, 5 k, 0 bb in 4.0 innings
Adam Rosales — 2B — Oakland A's
On 15-day DL. Eligible to return April 11
YTD: — no stats
Eric Sogard — infielder — Oakland A's
3 for 19 (.158) 0 run, 1 rbi, 0 hr, 1 bb, 1 sb, 3 so
YTD: .158, 0 run, 1 rbi, 0 hr, 1 bb, 1 sb, 3 so in 19 at bats