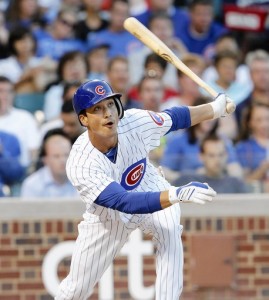 The Cubs have been patient with Darwin Barney. After spending the first two weeks of the season on the DL, he did not perform well at the plate, hitting just .154 in his first 78 at bats (23 games). But when the press asked if Barney would be demoted, Cubs GM Jed Hoyer said the team would be patient with him.
Last week that patience paid off, as Barney went 7 for 21 (.333) with 2 rbis and a home run in games against the Rockies and Mets. Since he has hit above .250 in the past two seasons, it seems reasonable to expect that Barney will continue to hit better than he has so far this season.
Barney wasn't the only one to do well at the plate last week. The A's backup infielder Eric Sogard was 5 for 11 (.455), scoring three times and earning an rbi last week. Sogard and fellow A's backup infielder Adam Rosales (also Mormon) essentially share the backup duties, and seem to be trading off who is hot at the moment.
Among pitchers, the best performance this past week came from the Mets' Brandon Lyon, who shut out opponents over 1 2/3rds innings of relief. Other pitchers had a much harder time. The remaining Mormon starter who is not on the DL, Jeremy Guthrie, struggled through seven innings, giving up 5 earned runs in a loss. But his era for the season only increased to 2.82.
Bryce Harper didn't play full time last week as he recovered from a collision with the wall in Dodger Stadium Monday that left him nauseous. And Jacoby Ellsbury, who has slumped recently but still played every inning of every Red Sox game until Sunday, was finally given a day off. Perhaps the rest will make a difference for him at the plate.
.
Hitting Stats Leaders:
John Buck — 10 home runs (tied 10th)
Bryce Harper — 11 home runs (tied 7th); 1.011 OPS (4th); .617 Slugging (4th)
Jacoby Ellsbury — 13 stolen bases (tied 3rd)
Pitching Stats Leaders:
Jeremy Guthrie — 5 wins (tied 10th); 1 complete game (tied 6th)
Roy Halladay — 1 complete game (tied 6th)
Fielding Stats Leaders:
Jacoby Ellsbury — 43 games (tied 8th); 43 games started (tied 6th)
.
Current Roster Players:
Darwin Barney—second base—Chicago Cubs
7 for 21 (.333), 5 runs, 2 rbi, 1 hr, 1 bb, 1 sb, 3 so
YTD: .192, 11 runs, 5 rbi, 2 hr, 12 bb, 2 sb, 11 so in 99 at bats.
John Buck — starting catcher — New York Mets
4 for 19 (.211), 3 runs, 2 rbi, 0 hr, 4 bb, 0 sb, 6 so
YTD: .228, 21 runs, 31 rbi, 10 hr, 10 bb, 1 sb, 38 so in 136 at bats.
Jacoby Ellsbury — starting outfielder — Boston Red Sox
3 for 20 (.150), 3 runs, 1 rbi, 0 hr, 3 bb, 1 sb, 2 so
YTD: .246, 24 runs, 14 rbi, 1 hr, 16 bb, 13 sb, 25 so in 187 at bats.
Kyle Farnsworth — reliever (right handed) — Tampa Bay Rays
0-0, 20.25 era, 4 hits, 3 er, 0 bb, and 2 k in 1.1 innings
YTD: 2-0, era 8.38 18 hits, 9 er, 3 bb and 5 k in 9.2 innings
Jeremy Guthrie — starting pitcher (right handed) — Kansas City Royals
0-1, 6.43 era, 11 hits, 5 er, 3 bb, and 0 k in 7.0 innings
YTD: 5-1, era 2.82 53 hits, 17 er, 17 bb and 30 k in 54.1 innings
Roy Halladay— starting pitcher (right handed) — Philadelphia Phillies
15-day DL – did not pitch – underwent surgery May 15th, will begin throwing in 6-8 weeks
YTD: 2-4, era 8.65, 33 hits, 33 er, 17 bb, 35 k in 34.1 innings.
Bryce Harper — left field — Washington Nationals
3 for 10 (.300), 4 runs, 1 rbi, 1 hr, 3 bb, 0 sb, 2 so
YTD: .297, 26 runs, 22 rbi, 11 hr, 21 bb, 1 sb, 25 so in 128 at bats.
Elliot Johnson — infielder — Kansas City Royals
2 for 9 (.222), 1 runs, 0 rbi, 0 hr, 1 bb, 1 sb, 5 so
YTD: .265, 7 runs, 2 rbi, 1 hr, 2 bb, 4 sb, 18 so in 49 at bats.
Josh Johnson — starting pitcher (right handed) – Toronto Blue Jays
15-Day DL — Did not pitch, may begin rehab assignment next week.
YTD: 0-1, 6.86 era, 28 hits, 15 er, 19 k, 9 bb in 19.2 innings.
Matt Lindstrom — right handed bullpen pitcher – Chicago White Sox
1-0, 9.00 era, 4 hits, 2 er, 2 k, 2 bb in 2.0 innings
YTD: 2-2, 4.76 era, 14 hits, 9 er, 15 k, 10 bb in 17.0 innings.
Brandon Lyon — right handed bullpen pitcher — New York Mets
0-0, 0.00 era, 1 hits, 0 er, 1 k, 1 bb in 1.2 innings
YTD: 1-1, 3.45 era, 14 hits, 6 er, 12 k, 4 bb in 15.2 innings.
Clayton Mortensen — right handed bullpen pitcher —Boston Red Sox
0-0, 3.38 era, 3 hits, 1 er, 0 k, 3 bb in 2.2 innings
YTD: 1-2, 3.86 era, 17 hits, 9 er, 17 k, 10 bb in 21.0 innings
Adam Rosales — 2B — Oakland A's
2 for 10 (.200), 1 runs, 1 rbi, 1 hr, 1 bb, 0 sb, 2 so
YTD: .293, 6 runs, 4 rbi, 2 hr, 6 bb, 0 sb, 13 so in 58 at bats.
Eric Sogard — infielder — Oakland A's
5 for 11 (.455) 3 run, 1 rbi, 0 hr, 0 bb, 0 sb, 0 so
YTD: .258, 14 run, 4 rbi, 0 hr, 6 bb, 2 sb, 12 so in 97 at bats